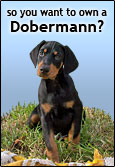 The Dobermann Club of Victoria Inc was formed in 1959, with the first constituted meeting taking place on Friday March 6th at the Graziers Association Rooms, Collins Street Melbourne, and has the illustrious title of being the first Dobermann Club to be formed in Australia.
The Dobermann Club of Victoria Inc is affiliated with the Victorian Canine Association. We strive to educate and encourage Dobermann owners, members, breeders and judges alike, in the requirements of the Dobermann Standard approved by the ANKC and to foster and promote activities that encourage interest in the breeding, upkeep, training of and general well-being and improvement of the Dobermann.
The Dobermann Club of Victoria Inc actively supports Dobermanns and their owners through a range of activities such as showing, obedience training, tracking and socialization.

The Club holds regular Special General Meetings where we encourage member input to events and other issues and occasionally invite guest speakers to provide presentations on topics of interest.